This post originally appeared on the Sales Section of the Inbound Hub.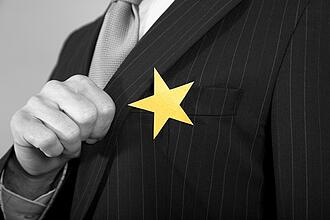 Many sales managers and leaders treat hiring like a pain in the neck. They rush through hiring decisions as if they're afterthoughts to their primary directive: selling.
But how does a sales leader achieve sustainable sales excellence? Through their team. So this common mindset doesn't make a lot of sense in my opinion. To me, hiring reps and building a strong team is a critical piece to sales success, and sales leaders should look at the time they spend on these activities as an investment.
I've spent a lot of hours thinking about my hiring practices, and I've come up with a fairly detailed methodology to build a strong team. Because a team is nothing more than a collection of individuals, much of it hinges on a detailed ideal rep profile that addresses four areas:experience, values, attributes and skills.
Experience
As I'm the leader of HubSpot's corporate sales team, I'm looking for people with a little more experience than the small and mid-sized business team -- ideally seven to 12 years of sales experience, three or more of those within a SaaS company. A track record of consistently meeting or exceeding quota is a must, as well as a history of closing both strategic as well as transactional deals. Lastly, I would like them to have experience selling to our target buyers.
Experience is the only factor that can be judged through a resume. The rest of the abilities I'm seeking are less fact-based and more personality- and behavior-driven, so they must be assessed through an interview.
Values
I only look for a handful for core values, but they're big ones:
Honesty and integrity
Strong work ethic
Team player
Good judgment
Even if someone has the exact experience I'm looking for on a resume, I won't accept them onto my team without each and every one of these core values. Values can't be taught -- they're in your DNA. A rep that doesn't possess these traits won't take care of the customer the way I'd like them to, and they won't work well with others on my team who do hold these values near and dear. So I'd rather not have them to begin with.
Attributes
Like core values, I believe that attributes are innate. Here are the traits I look for:
Drive to win. Challenges should be exciting to the candidate.
Goal-oriented. The person should have a bias towards taking action to achieve their goal, instead of letting the chips fall as they may.
Creative problem solver. Much of deal-making relies on out-of-the-box thinking, especially in an enterprise setting.
Curiosity. Enterprises are complex places. The candidate needs to be curious to learn about their customers' businesses and challenges, even if they're fairly convoluted. Curious people also tend to catch on quicker.
Coachability. Nobody knows it all. The candidate should be open to feedback and possess a desire to continuously improve.
Passion. The person should convey excitement about the things they're passionate about.
Skills
Some of the skills that my ideal rep demonstrates are fairly inherent, while others can be trained.
In the first category are strong interpersonal and communication skills. Even though most of my team's selling activities are done over the phone, a candidate should still have the ability to inspire trust and forge bonds. They should also be able to explain complex ideas simply -- both verbally and in writing.
The ones that can be trained to a certain extent include enterprise selling skills, fundamental selling skills, and product knowledge. To assess enterprise selling skills, ask the candidate whether they are comfortable utilizing internal resources such as sales enablement staff or content to close deals, navigating complex customer environments, and learning and internalizing customer value drivers.
On the side of fundamental selling skills, look for someone who qualifies thoroughly, maintains a high level of activity, and offers a unique perspective.
Constructing a Team of Ideal Reps
This is my ideal rep profile, but no individual is perfect. I have yet to meet the candidate that checks every single box on this list. However, some missing traits are less serious than others.
To me, values and attributes are non-negotiable because they just can't be taught. Experience can be gained and skills trained. If someone has solid fundamental selling skills but might not be familiar selling to marketers, for instance, I could take a chance on that person. Maybe they only have five years of experience selling into the enterprise space, but they're an up and comer -- that would be okay, too. But I would never extend an offer to someone who's not honest, or who isn't goal-oriented.
Building a strong team starts with hiring the right people. Then, you as the leader should fill in the gaps of what one person is missing with another's strengths. No one person has all of the necessary experience and skills, but a single team could. Look for how people will complement each other and help their teammates grow.
When you have a collection of well-rounded salespeople with the right values, attributes, skills, and experience, they're going to compete, but in a friendly manner. Striving to be number one when you work among the best helps everyone to get better. It's a productive environment where a ton of work gets done, but in a fun way.
To get to this point, sales leaders have to be willing to make a firm commitment to hiring. Bump it up on your priority list, and watch the progress toward your other goals skyrocket.